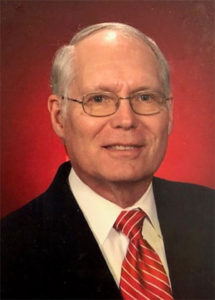 Dr. Byrn Williamson, one of three original board members, is now in the presence of His Lord and Savior. He was a loving husband to Anita for 54 years, a father, a grandfather, a Mayo Clinic radiologist, and a faithful follower of Christ. We are grateful to God for Byrn's selfless commitment to this ministry from its inception.
Melissa McBurney, co-founder of Marble Retreat, shared these words: "Byrn Williamson was an essential gift from God to Marble Retreat. Byrn knew all the practical ways to run an organization ethically and effectively. He was the perfect secretary for our meetings and always had information at his fingertips that we needed. He was gifted in numerous ways but the most memorable to me was his
faithfulness to the Lord, to Anita, to his children, to his integrity and to Marble Retreat. Thank you, Lord, for Byrn." Dr. Scott Middleton, chairman of the board for much of Byrn's time of service, added these words: "Byrn's support for what Marble Retreat was offering to stressed servants of the Lord was always evident. He operated from the foundational base of Truth and God-given wisdom. From our original meeting, his thoughts were often a plum-line for us."
We remember Byrn with gratitude for his life of service and contribution to the ministry of Marble Retreat.